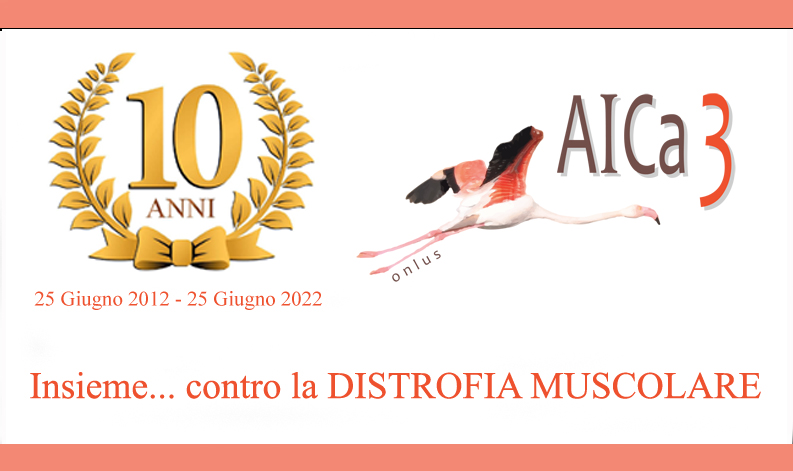 Dear Friends,
It is with great pride and satisfaction, allow us also a little bit of emotion, that we celebrate the tenth anniversary of the establishment of AICa3 onlus - Italian Association Calpaina 3, for the fight against the Dystrophylammuscular Dystrophy of the belts.
In these ten years of life many have been the activities of AICa3: four research projects, two International Congresses, the first World Workshop, many interventions, collaborations and participations with related realities and the population. We have always been looking for projects able to make us know a little better the cingulate muscular dystrophy and to be of support to symptomatically similar pathologies, and why not, also to transmit sensations and emotions.
Celebrating ten years of activity means having a history, an important past, a memory, an identity, and our Scientific Committee, our Members and our supporters must be proud of this, and I would like to express our appreciation to them, because it is through their voluntary work, their passion, their desire and ability to do what they do that we have achieved what we represent today, what we are today: an important reference point for people with muscular dystrophy and an active part in the panorama of scientific research on muscular dystrophy.
The results obtained show that we have worked hard and carefully: we have created an association capable of being appreciated, we have shown a remarkable dynamism in seeking collaboration with different components of the scientific community and in establishing multiple relationships with them.
Our first ten years of existence of AICa3 is one of the most important milestones achieved so far. But if we have succeeded in this is also and above all thanks to you, and to all those who have believed in us and supported us. To you, therefore, I want to express our sincere gratitude!
Aware of the role that we can and must play to support patients and research on cingulate muscular dystrophy, we continue to make available all our intelligence and skills to guide AICa3 onlus towards its main objective: to contribute to finding a cure for Calpaine 3 deficiency muscular dystrophy.